We supply a ton of shiplap, nickel gap specifically. It has gotten so common, it's in every house we measure and every plan we do a takeoff for. The question is always where is the shiplap going—fireplace wall, mudroom, bed wall, stair case, ceilings? It's almost standard operating procedure now: doors, casing, baseboard, stairs, shiplap. It started growing in popularity on Nantucket about 10-12 years back, reached the mainland, and caught on like wildfire ever since. Websites like Pinterest & Houzz make it easy for homeowners and designers alike to share and see designs they love and shiplap has certainly made it into many hearts & homes.
Shiplap has actually been around since the time of the Vikings. They used it on the side of their ships! Eventually it made it from ship to shore. It started being used in home construction as wall paneling over studs meant to be covered up by wall paper or paint, like sheetrock is used today. It's history probably has a lot to do with it being so popular now.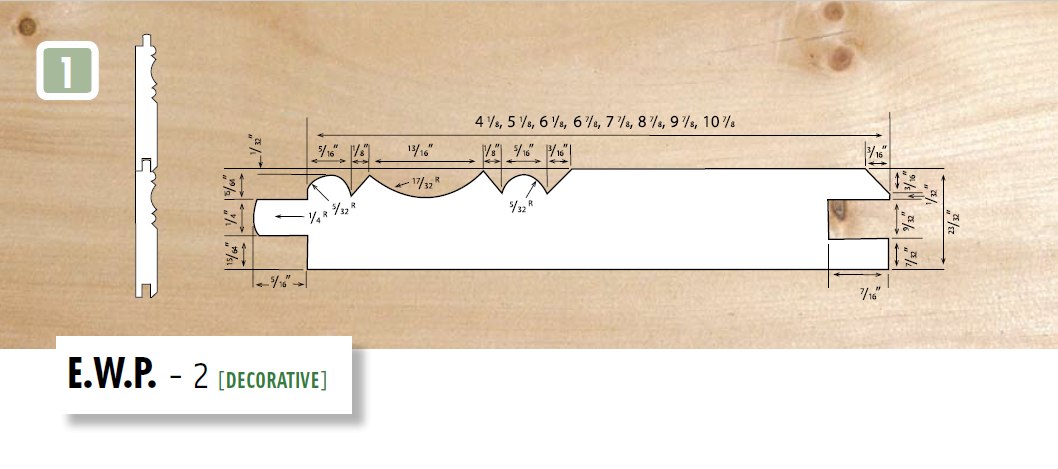 Pickwick pine or WP-2 took the shiplap concept from back in the day and gave it some more decorative detail. It's said that post World War 2, Pickwick pine was the most popular wall paneling on the market. Pickwick pine is a tongue & groove product with a cove & bead detail. This gives it really sharp looking lines at the joint, then a width of flat that depends on the overall width of the boards, 1×6, 8 & 10 is pretty typical (see NELMA pattern E.W.P.-2 below).
It's certainly not as common anymore for wall and ceiling paneling as shiplap, edge & center bead, or v-groove for that matter, but man it should be! It's a really sharp looking profile and most mills still stock it amazingly. It's classic, historic, and has a lot more detail than just a shiplap, v-groove, or ECB. It might not be for a shaker type house with square casing, square base & flat panel shaker doors, but if you like to see a little more detail with nice cove & bead lines look no further than Pickwick pine!
NeLMA, Northeastern Lumber Manufacturers Association www.nelma.org is a great resource for technical information, drawings, grading, etc. from shiplap to log siding (link to standard patterns https://www.nelma.org/wp-content/uploads/PatternBrochure-v1.9.pdf)
Also, a couple of great articles on Pickwick pine and other wall paneling: https://www.thisoldhouse.com/woodworking/21019120/all-about-interior-wall-cladding